Komodo National Park in West Manggarai
---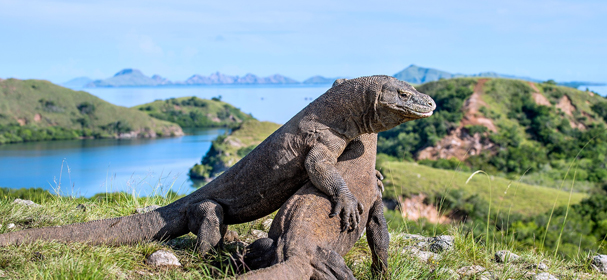 Everyone is looking for a unique vacation destination. Indonesia offers unlimited options of attractions. Komodo National Park is not an exception. It is located in West Manggarai Regency. Actually, it belongs to Flores Island. It also features 3 major islands such as Rinca, Padar, and Komodo Island. Not to mention there are several small islands. The size of the park is about 600 km2. The government created it as conservation for Komodo dragons. Though, there are other animals as well. These include reptiles, mammals, and birds.
Visiting Komodo National Park
Komodo dragons are considered a valuable animal. In order to retain their number, the government pays a significant attention to them. There are thousands of people living nearby. They belong to Bajau Bugis Tribe. Most of them work as a fisherman. Actually, you can also find indigenous people. They are the members of Ata Modo Tribe. The thing is their culture has been merged with new visitors. Today, you may see different tribes and cultures in Komodo Island. It is quite interesting.
Komodo National Park is a simple and useful conservation. Once you reach the location, you may find some traditional buildings. There are some rangers and guides nearby. Komodo dragons are quite dangerous. Thus, you shouldn't reach them carelessly. Their weight is about 100 kg. It can be more than that, in fact. Their deadliest weapon is the bite. It contains lethal bacteria. A small bite may weaken the prey over time. It is only the matter of time before this lizard devours its prey thoroughly.
Once you enjoy a good time in Komodo National Park, you must explore other attractions. The park is located near to some villages. There are about 4 settlements nearby. These include Komodo Village, Kerora, Rinca, and Papagaran. The locals mostly work as a fisherman. You can talk to the villagers comfortably. No worries. They are friendly. Tourists often ask about the history of the park. If you come with a tour guide, he should be your interpreter. What is next? It is the marine life.
Komodo National Park also features beautiful marine landscape. You can find more than 200 species of corals. Not to mention there are more than a thousand of fish species. It is hard to refuse the temptation for swimming. The water is warm and clear. Due to these reasons, many tourists come here for diving. Not only it has beautiful corals, the water features fishes, seaweeds, and much more. You can even see sharks, manta rays, green turtles, and other exotic animals. What a great adventure!
How to Get There
From Bali, you can head to Labuhan Bajo. This airport is situated in Komodo Island. The fastest way to reach Komodo National Park is by air. As an alternative, you can come by land. Though, it takes much time and efforts. The first destination is Lombok Island. From here, you need to pass some checkpoints like Mataram, Kayangan Port, Pototano Port, Sumabawa, Dara Bima Station, and Sape Port. That means you also need to use a ferry to cross the sea.
Latest News
It is true East Nusa Tenggara Province is famous for its Komodo Island. However, many other attractions are available in this region. For instance, there is Amelia Sea View located in Labuan Bajo. As the name suggests, it is the … Continue reading →
---
Go Flores Tours are the windows to enjoy the beauty of the Nature Island of Flores and Komodo Island. visiting this kind of paradise will not be disappointed when you witnessed with your own eyes and feel the differences peculiarity … Continue reading →
---
  Wae Rebo Wae Rebo is one of Indonesia's precious destinations in the formn of an old Manggaraian village. It situated in pleasant, isolated mountain scenery in Flores, East Nusa Tenggara. The village offers visitors a unique opportunity to see … Continue reading →
---
Top Komodo Tour in Flores island Indonesia is a recommended & reliable local tour operator to arrange your memorable trip to Flores & Komodo island. Due to its great service since many years, it's also many highly reviews on Trip … Continue reading →
---