Tour & Travel Agents
---

TopKomodoTour.com
Top Komodo Tour is reliable local tour operator in West Flores, Komodo island. This tour agent has been many years providing the adventure tours to Flores and Komodo. It is specialize in organze tour to Komodo and lost-paradise of Flores island.
---

komodomegatours.com
Komodo Mega Tours is a tour operator of Flores island based in Labuan Bajo discovering Indonesia tours specialized for Komodo tour, Rinca tour, Flores tour and Lesser Sunda beyond Bali island. This tour operator has set up promote the Indonesia tourism with its tour service, arrangement, organizing and management tour.
---

GoToKomodo.com
The gotokomodo tours is the window to glimpse the wonderful Flores and Komodo. The Gotokomodo tours based in Labuan Bajo – Flores, Indonesia. The Gotokomodo tours organizes the Flores Overland tour, Komodo trip and Komodo diving in which you get in touch with its people and nature.
---

KomodoIslandAdventure.com
Komodo Island Adventure tours managed by native Flores people, composed of very experienced team; tour operator, guides, staffs and drivers. This tour travel is located in Labuan Bajo - Flores and experienced for about ten years. You will visit Flores around and the famous Komodo Island.
---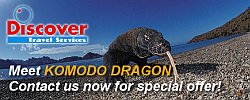 Discover Holiday
Discover Holiday is one of travel agent in Surabaya, East Java which also offered tour packages to Komodo Island. The tourists can take a tour to Wae Rebo, Komodo and Flores by Discover Holiday package.
---
Latest News
Go Flores Tours are the windows to enjoy the beauty of the Nature Island of Flores and Komodo Island. visiting this kind of paradise will not be disappointed when you witnessed with your own eyes and feel the differences peculiarity … Continue reading →
---
  Wae Rebo Wae Rebo is one of Indonesia's precious destinations in the formn of an old Manggaraian village. It situated in pleasant, isolated mountain scenery in Flores, East Nusa Tenggara. The village offers visitors a unique opportunity to see … Continue reading →
---
Top Komodo Tour in Flores island Indonesia is a recommended & reliable local tour operator to arrange your memorable trip to Flores & Komodo island. Due to its great service since many years, it's also many highly reviews on Trip … Continue reading →
---
Dragon Island Adventures was established in 2014 by Maxi and is based in Labuanbajo. With his many years of leading tours and in managing holidays in Lombok – Sumbawa- Komodo- Flores, you will not find a more knowledgeable operator who … Continue reading →
---