An Adventure to Loh Buaya in Rinca Island
---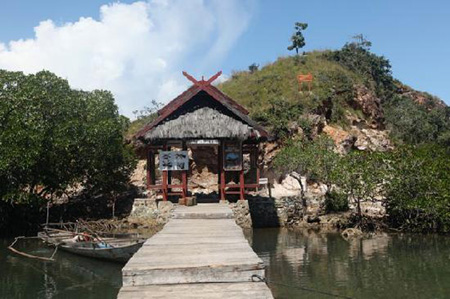 Loh Buaya is considered a worthy vacation destination. It is located on Rinca Island, Nusa Tenggara. It is the main gate for trekking. Also, it is the part of Komodo National Park. In order to reach this location, you must spend 3 hours from Labuan Bajo. The most common transportation is a boat. The best time to visit Loh Buaya is in the morning. It features beautiful scenery and calm wind. Most of the visitors come here for trekking. Thanks to the beautiful landscapes and atmosphere.
The Nuance
Once you arrive at Loh Buaya, you can feel a calm and comfortable nuance. It is similar to a bay. There are some unique parts like a wooden pier. The best thing is its hygiene. This tourist spot offers a clean and neat environment. Beneath the pier, you can find some local boats. That means you can watch these boats from the pier. Near to the gate, there is a hill. It doesn't feature many trees, though. When it comes to the land, it is dry and sandy.
Exploring Loh Buaya
The best attraction is Komodo. There are some wild Komodo monitors nearby. You can even find their offsprings. These lizards don't move fast, but they are able to climb a tree. Their skin is tough and their claws are sharp. Some of them may fight to each other. If you are lucky, you can enjoy this cruel fight. What is the reason? The males will fight if they want to win a female. Apart from these animals, Loh Buaya also offers beautiful scenery. You won't be disappointed.
Loh Buaya is quite similar to Loh Liang. You can find some facilities like a shelter, food stands, and cottages. Not to mention it is located near to many nearby attractions. Once you enjoy seeing Komodo dragons, you can try other activities. The most recommended one is trekking. That means you need to climb the hill. The scenery is quite stunning from above. There are dry grass, trees, and other natural attractions. It is a great place to take some pictures.
Nearby Attractions
Loh Buaya is not the only attraction in Rinca Island. There are many options, as well. All of them offer a unique attraction. These are some of them:
Eastern Padar Beach
Cunca Rami Waterfall
Loh Srikaya Bay
Pink Beach
Scuba Junkie Komodo Beach
Tatawa Kecil
Komodo Village
Kelor Island
How to Get There
Your first destination is Labuan Bajo. You can reach it by either a plane or a ferry. Once you arrive at Labuan Bajo, you can directly visit Rinca Island. There are some local boats available. You can rent one so make sure you carry enough money. At Rinca Island, you can use a local transportation to Loh Buaya.
Where to Stay
There are some options of accommodations. The nearest one is Jayakarta Suites Komodo Hotel. It features a dining and pool facility. The other options are Komodo Resort, Puri Sari Beach hotel, Luwansa, Angel Island Resort, and Laprima. In order to get a cheaper price, you shouldn't come during holidays. Summer is the best time to visit Loh Buaya, actually
Latest News
It is true East Nusa Tenggara Province is famous for its Komodo Island. However, many other attractions are available in this region. For instance, there is Amelia Sea View located in Labuan Bajo. As the name suggests, it is the … Continue reading →
---
Go Flores Tours are the windows to enjoy the beauty of the Nature Island of Flores and Komodo Island. visiting this kind of paradise will not be disappointed when you witnessed with your own eyes and feel the differences peculiarity … Continue reading →
---
  Wae Rebo Wae Rebo is one of Indonesia's precious destinations in the formn of an old Manggaraian village. It situated in pleasant, isolated mountain scenery in Flores, East Nusa Tenggara. The village offers visitors a unique opportunity to see … Continue reading →
---
Top Komodo Tour in Flores island Indonesia is a recommended & reliable local tour operator to arrange your memorable trip to Flores & Komodo island. Due to its great service since many years, it's also many highly reviews on Trip … Continue reading →
---